Oh my! There are already people waiting in line for the upcoming feature. Be quick, and make sure you get your spot in time!
📢 The waitinglist is live by now! Click here to check it out 📢
Building a solid community is one of the most important steps on our journey to a successful project. Therefore, we've come up with a feature that we think will ensure a healthy growth in community members.
The basic idea is to give our existing community the opportunity to become pro-active and support us directly. Including proper rewards for doing so. That's why we created:
THE WAITINGLIST
But how does it look like and how does it work? And what does the community members get out of it? The answer is: YES!
Just kidding, let's dive into details. Brace yourselves, gamification incoming.
The Reward
First things first: what does a pro-active community member get by participating?
Closed Alpha Access
We know that the community wants to get their hands on the game as soon as possible. Nevertheless, we need to make sure that the quality of the game we want to ship is flawless. With that in mind; we need testers for the upcoming Closed Alpha phase of the project. And who is better suited for that than you, our community!
With that being said, the core reward of the waitinglist is an access code for the Closed Alpha that will be announced soon.
However, since we want to ensure a origanized and effective test phase, we unfortnunately cannot reward every community member with an access code.
But How Does This All Work Exactly?
Earning 💠XP
With an point-based system, in which you can earn 💠XP for every quest or achievement completed, either now or in the past, the waitinglist ensures rewards for community members that were with us from the get go and those that are just joining. Members with the most engagement will have the best chances at receiving an access code.
This is what the quests module will look like. In here you can monitor every quest or achievement that will earn you 💠XP by completing it. Psst... 🤫 there are also hidden achievements.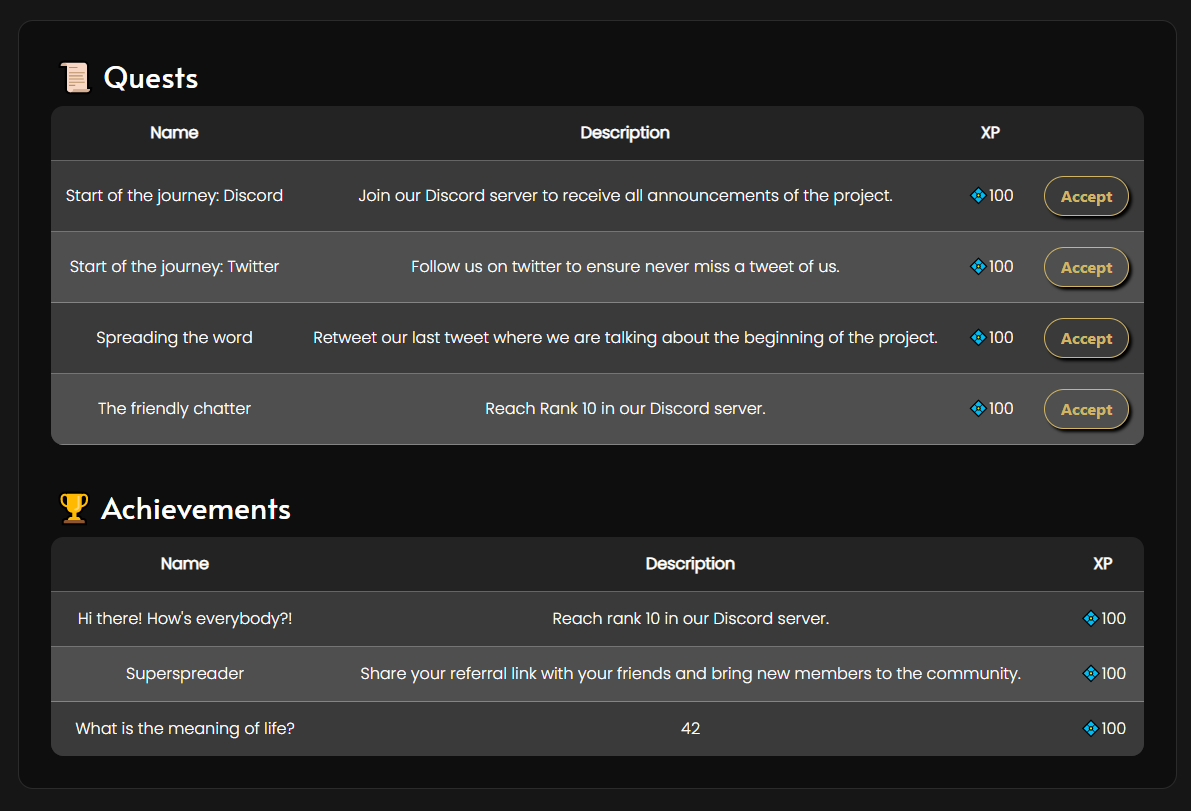 In the quests module you see every quest or achievement you can complete to earn 💠XP
Quests & achievements inlcude tasks like:
Earning a special role on our Discord server
Follow our social media accounts
Retweeting specific tweets
Be active in our Discord server
Referring new members to the community
And many more to be revealed once your get your hands on it!
There are basically no boundries. Everything that increases the growth of the community will come into play.
The Leaderboard
The earned 💠XP will be aggregated in the leaderboard module where we rank members based on their gathered 💠XP. In the future there will be several snapshots of the leaderboard where members will receive an access code based on their ranking at the time of the snapshot. In the first snapshot we will start with the Top 100 members and regularly expand that range until the release of the actual Alpha version. A detailed snapshot schedule will be revealed in a later announcement in which we will go into more detail about the Closed Alpha.
Once you have completed your first quests or achievements and gained some well earned 💠XP, you will be ranked in the leaderboard. Here you can check your current ranking and how much 💠XP you will need to earn to increase your rank.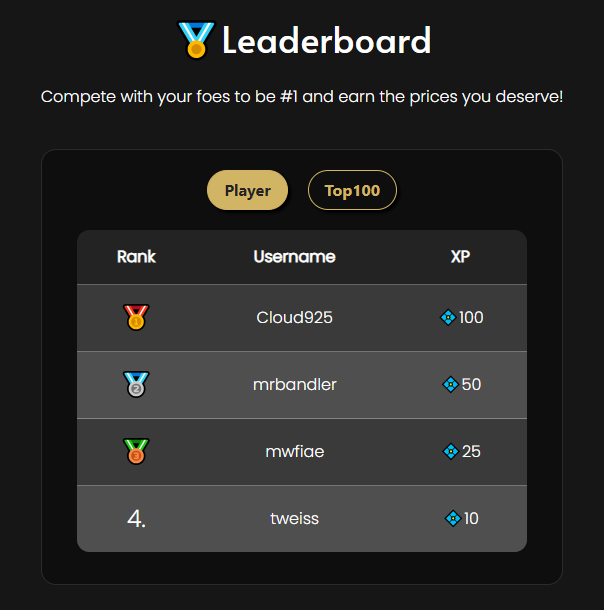 Give your everything to rank up as high as possible to get an access code for the Closed Alpha
Either inspect foes in your direct vicinity or compare yourself with the Top 100 members of the community.
Conclusion
The waitinglist is only the beginning of a very exciting step on our journey. We need every single one of you to strengthen and grow the community. You are the fundament of the project and we will do everything we can to deliver an outstanding experience and reward you for your trust end patience until the big day of release and beyond! Great to have you on board!
In the meantime, don't forget to join us on our socials, if you haven't already: