Conducting a token launch with the most important thing in focus - the people.
Mortals, listen up! Now is the time to join an incredible adventure that is about to kick off this month! With the recent release of the Launchpad Page on Entity, all information about the launch is now publicly available for everyone to digest. To celebrate, we wanted to highlight a few things that make our public sale special.
Community-Focused Token Metrics

Having an eye on the current market situation brought us to the conclusion that to make Knights of Cathena a success, we need to change the common approach of onboarding industrial investors or VCs.

As a gaming project, we know that our community is the most valuable thing we have. That's why we asked ourselves at some point "Hey, why not give the community the biggest opportunity upfront?". The more we thought about it, the better we liked this approach!

This community focus led us to structure our token metrics the way we did (image below).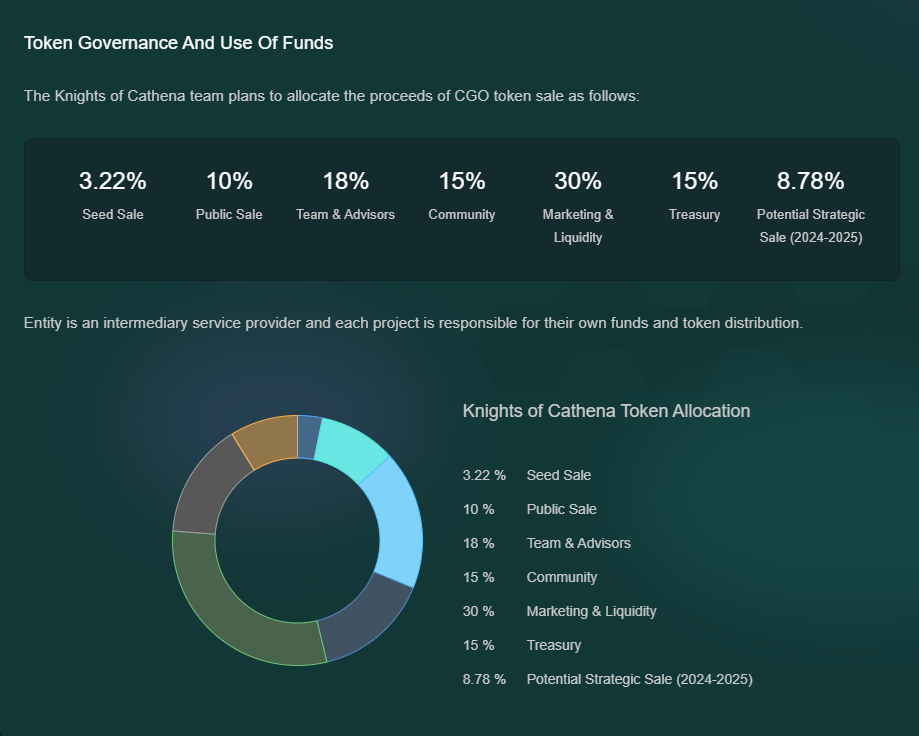 Rather than onboarding many investors in a private round, we conducted a very exclusive and small strategic seed round with only 3.22% of the token supply sold. On the other hand, we are offering a very big amount of tokens to the public in the upcoming sale on Entity. This has several advantages for our community.
A Fair & Inclusive Public Sale

With a big allocation for the community, we will give everyone who supports KoC and MultiversX a good chance to participate in the public sale.

Additionally, we increased the amount of tickets each user can buy and reduced the necessary amount of EGLD staked.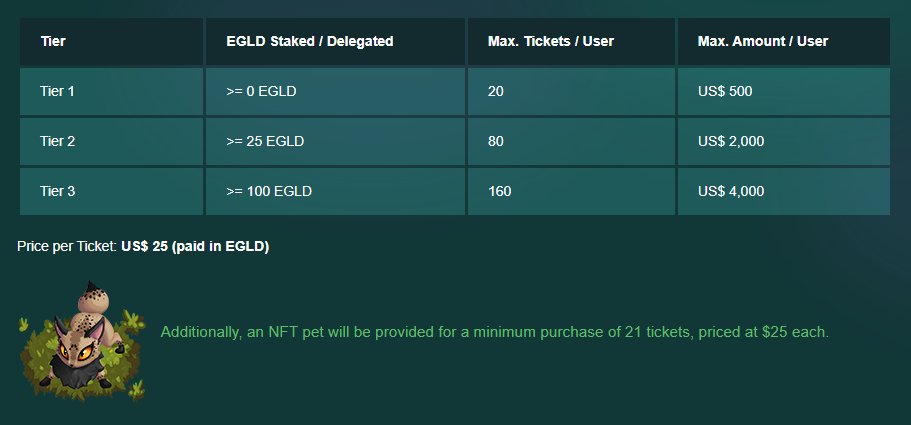 As you can see, we even have a free tier where people can buy tickets without needing any staked EGLD.
And, don't forget the additional Pet NFT that will be usable in game, which you get for free if you buy at least 21 tickets!
Protecting Everyday Investors

Of course, our seed investors have a locking period for their tokens that protects the public from excessive dumping. Also, the relatively low amount of tokens sold to seed investors in comparison to the public sale protects the token price even further.
Profiting From A Future Sale

Some of you may have noticed that we have reserved 8.78% tokens saved for a potential strategic raise in the future. This bucket is intended to react to the market accordingly when needed. For our public sale investors, this is a huge opportunity. Why? Because a new raise in the future can have a very positive impact on the project and the $CGO token later on when market conditions are right.
$CGO: A Unique Token Launch

There are a few more things we wanted to point out about the public sale $CGO tokens.
Lock Period

Yes, the $CGO tokens sold at the public sale will come with a short locking period as you can check out in our Litepaper.




But there is a reason for that. Locked $CGO tokens can be used in the game already once Knights of Cathena is released on Mainnet. After the public investors have received their tokens, there will be an event on our Website to buy Item Chests. Not only that, but those Item Chests will be discounted for all public sale investors!
This will add an additional advantage for our community as they can start participating in the game's ecosystem even when their tokens are not fully tradeable. Of course, the $CGO tokens earned in-game will be unlocked. It's the people's choice to either wait for their tokens to be unlocked or hop on the game, bring value to the ecosystem, and earn more tokens earlier.
Soft and Hardcap

Usually, a token sale on a launchpad is called a success if it's oversold. For our launch, we see things a little differently. As we wanted to give everyone a fair chance to participate, we introduced a soft and hardcap to the sale. This means that we can call the launch a success once the soft cap is reached after $500k worth of tickets have been bought.

All tokens that are not sold between the soft cap of $500k and the hard cap of $1.25m will be used in favor of the community – either for providing liquidity on exchanges or conducting events in-game (we already have several ideas here!).
What To Do In The Meantime

The most important thing is to keep your eye on the Entity Launchpad page and get ready for the start of the KYC process on August 9th. The KYC period will last until 10 PM UTC on August 15, so make sure you don't miss out.

And of course, you can participate in the Alpha Testphase and earn rewards like Fey, our first NFT pet, until the game is launched on Mainnet – which will be announced soon!
---
Don't forget to join us on our socials: